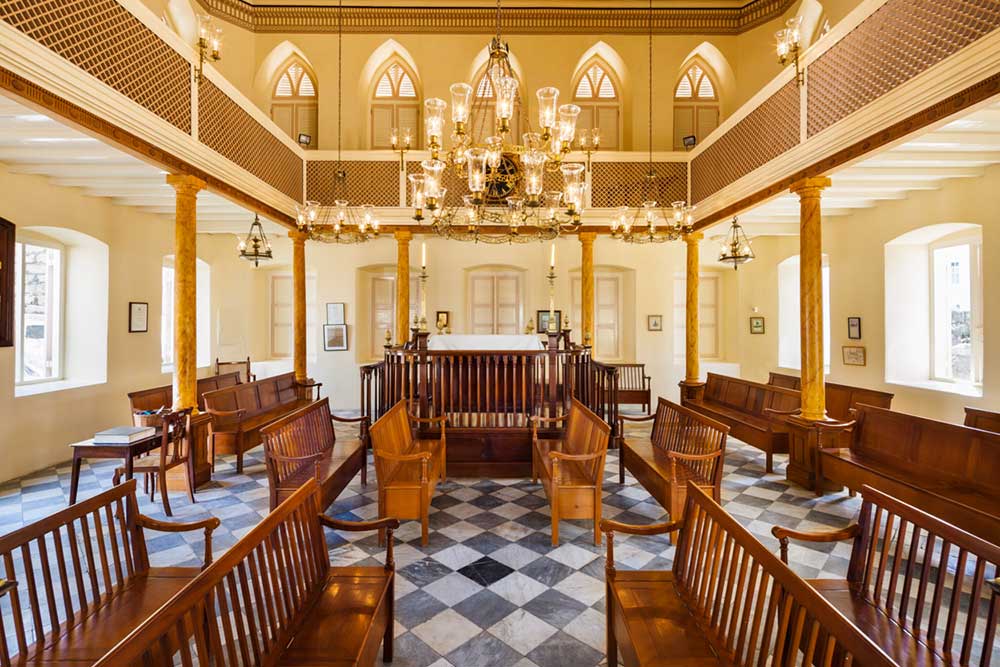 Weekly Friday Night Services
Our community's minhag (tradition) is to meet weekly for Friday night Kabbalat Shabbat services at 6:30pm, location according to the calendar and on-line via ZOOM.
If you would like to join us on ZOOM, please e-mail bjc@jewishbarbados.org or use the "EMAIL US" button below.
If you already receive our weekly community e-mail, the meeting code for each week's Shabbat service is included in the text of the e-mail.
EMAIL US
DURING THE SUMMER SEASON

We meet at Sha'are Tzedek Synagogue, a residential synagogue located in Rockley, Christ Church, traditionally for Rosh Hashanah.

Please see our Calendar/Events further down this page.

MAP FOR SHA'ARE TZEDEK SYNAGOGUE

DURING THE WINTER SEASON

(Hannukah to Passover) we meet in the historic Nidhe Israel Synagogue in downtown Bridgetown, Barbados.

Services begin at 6:30 pm unless otherwise noted on our Calendar/Events further down this page.

MAP FOR NIDHE ISRAEL SYNAGOGUE
HIGH HOLIDAY SERVICES
The community hosts a visiting "baal tefillah" to lead us in our High Holiday celebrations each year. We have had the pleasure of having the Blumenfeld family from New York join our community for over 20 years.  These services are held at the air-conditioned Sha'are Tzedek synagogue on Rockley New Road. Visitors are welcome; please inquire at bjc@jewishbarbados.org.
COMMUNAL SEDER
The community hosts a communal Seder, at the Shillstone Social Hall in the Nidhe Israel complex.  This program is member-led and is open to visitors by reservation.  Please see our Calendar for details about this year's Seder.
VISITING MEDICAL / UNIVERSITY STUDENTS
We encourage Jewish faculty and students of Barbados' many graduate and medical institutions to join us for all of our services. We offer free tours of the Nidhe Israel Synagogue and Museum for visiting students and academics. Inquire at bjc@jewishbarbados.org.
ACCESSIBILTY / WHEELCHAIR ACCESS
Our Sanctuary, Courtyard and Community Building are on one level.  The Nidhe Israel Historic District Museum has an access ramp.   Spacious restrooms are also accessible.